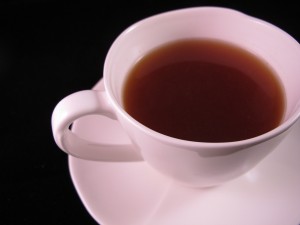 My life work is teaching people how to prepare elegantly simple foods that are both healthy and delicious. My life love is chocolate. When I can find a way to combine the two, I get very excited.
This morning I enjoyed a cup of Tisano Cacao Tea. It was delighful, from start to finish. When I opened the can of loose leaf tea, I was enchanted by the aroma. In this world of highly processed foods, aroma is all too often absent from our culinary experience.
I enjoy the ritual in preparing a pot of tea. Sure, tea bags are easier and far more convenient, but there's something to be said for the act of slowing down and savoring the experience. Brewing a cup of this lovely tea reminded me to do just that. The flavor matched the aroma. Most of the chocolate teas that I've sampled have a lovely aroma but very little flavor. This was like drinking a cup of hot chocolate with the mouth feel of tea. I enjoyed every last luxurious drop.