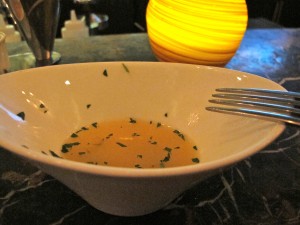 "Are those mushrooms?"
"Roasted mushrooms topped with a fried egg, pancetta, and ricotta salata. They make their own cheese here. You must be from out of town," the gentleman says with a quizzical look in his eyes. I don't tell him I walked by the restaurant four times before finding the entrance.
I drop my satchel and climb onto the bar stool, still eyeing the ricotta salata, "I'm attending a business development seminar at Urban Zen."
He leaned in a little closer, "Well, you can't leave this restaurant without trying the mushrooms. It's their signature dish. And then you must have the spaghetti. It's not your typical spaghetti. They make the pasta on the premises. We come here two or three times a week and we order the very same thing: roasted mushrooms, followed by spaghetti with garlic, Parmesan cheese and chilies. And after that, the roasted chicken. It's melt-in-your mouth magnificence."
As I savor the last luscious strand of pasta on my plate, a line of olive oil glistening on my lips, his date says, "No wait, you have to try this chicken." She slices a piece of succulent chicken and places it on my plate, the unmistakable look of foodie anticipation dancing in her eyes. She, too, is excited to feed me. There is no jealousy here. No worries that her date is making the moves on the lady to his left. You see, she's a foodie, too. And foodies are willing to share their food, right off their plates. The more food rapture, the better.
"Oh.My.God, this is amazing," I respond appreciatively, a look of sheer bliss illuminating my face. I take a bite. There is just a whisper of a crunch in the lightly roasted golden brown skin. A hint of rosemary reminds me of chickens roasting in my grandmother's garlic-infused kitchen.
I am a foodie. I like to talk food, share food, reminisce about great meals, and savor every bite on my plate—preferably in the company of fellow foodies. When I'm not eating with friends, I'm sharing sumptuous meals with total strangers at secluded restaurants in the West Village or Adams Morgan, known only to the locals who guard their neighborhood restaurants like the jewels they are. Yes, I said strangers. Let me explain. Traveling solo gives you the opportunity to dine with the neighborhood folk.
No, they don't share their secret eating spots; unless of course you happen to wander in, sit yourself up at the bar, order a very expensive glass of wine, and start swooning over the menu. Foodies sniff each other out. They share foodie pheromones. Pretty soon total strangers are eating off each other's plates. This isn't a romantic gesture, the kind of nibbling that you do when you're sharing a meal with your beloved. This is more like a one night (epicurean) stand.
All food rules are barred when I dine with fellow foodies. The food orgy far outweighs any nutritional nonsense I could call up. Yes, in the company of fellow foodies, all that I've learned about healthy eating flies out the window in exchange for an illustrious hour of rapturous delight over breaking bread with individuals who have the same foodie sensibility.
And then there's the ambiance: an orchestra of colors and textures on and around the plate. That could simply be the arrangement of the food. Is it tall food, ready to tumble gracefully when fork meets structure? Is it lying in a swirl of chocolate sauce or drizzled with beurre blanc? Does the meal call for a particular piece of music, perhaps? John Coltrane, Billy Holiday, or Edith Piaf? At home or in a restaurant, I listen for the music that accompanies the meal. Does it take me to another place and time? Will I be leaving the restaurant in a taxi? Or a streetcar. Does the music paint a picture of a tiny little restaurant on the Rue Pecquay in Paris? Or am I happy to plant myself in the present moment savoring a more contemporary cuisine?
Even when I'm dining at home, I play with the elements of taste the way a writer plays with words, trying them on for size and then replacing them with a more vivid vernacular. The fennel on my plate is fickle. One night it prefers to be drizzled with olive oil and the juice of an orange. The next night it calls for currants and lime. I make up these combinations and pretend I've unlocked the secret to the perfect marriage of savory and sweet. Yes, an accomplished chef will tell you this is the art of flavor balancing. To me, it's just … playing in the kitchen.
I savor the cooking experience as much as the meal I'm about to enjoy.
Maybe more.