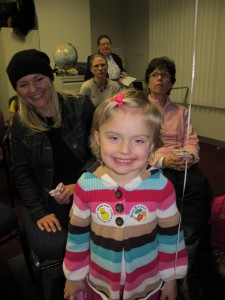 I love giving talks. I like the excitement of showing up, fully prepared to speak to a room full of adults (From Beleaguered Cook to Culinary Rock Star) while a group of bubbly children file in—faces painted, balloons flying overhead. No worries. In my former life I was a first grade teacher; I never travel anywhere without a great piece of literature and repertoire of kid-friendly anecdotes and antics. It's pretty easy to charm a child, especially with "chocolate for breakfast."
I introduced myself as the founder of Chocolate for Breakfast. The children clapped. (I hadn't even started the presentation.) Chocolate for breakfast—now we're talking! My signature smoothie was a big hit. I left out the Swiss chard on the first round—I didn't want to push my luck. I threw in some chard for the adult audience. The children held up their cups. Who says you can't get children to eat greens? Obviously you haven't tried blending them in a chocolate raspberry smoothie.
I promised you another guilt-free chocolate recipe. I've seen several variations on this brownie but this is my favorite. It's best not to call it a "brownie." The texture is very different. If you call it something like "chocolate surprise" or "chocolate dream squares" you won't be looking for the chewier texture of a brownie and you'll enjoy this treat even more!
Garbanzo Bean Brownies (Chocolate Dream Squares)
1 1/2 cups Ghiardelli chocolate chips (They're gluten-free.)
2 cups garbanzo beans, drained and rinsed
4 eggs
1/2 cup organic turbinado raw cane sugar
1/2 teaspoon baking powder
1. Heat oven to 350 degrees
2. Melt chocolate chips in a small bowl over a pan of boiling water
3. Combine garbanzo beans and eggs in a high speed blender or food processor
4. Add sugar, baking powder, and chocolate and process until smooth
5. Pour batter into an 8X8′ pan nonstick pan and bake for 45 minutes
Enjoy!