The ONLY flavor that can pull me away from chocolate?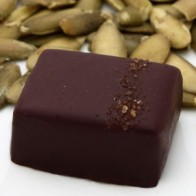 Pumpkin.
So you can imagine how delighted I was when I found nicobella's pumpkin chai truffles. Not only are they the perfect marriage of chocolate and pumpkin, they're vegan. Many of my clients have found a need (or desire) to remove dairy from their diets. Introducing them to this outstanding vegan truffle is pure delight. These truffles were developed by Nichole Dandrea, a registered dietician who knows the value in creating a chocolate that is both sumptuous AND healthy.
For this contest, you'll need tell me what flavor sensation can turn you into a chocolate traitor and why. The more descriptive you are, the better. Don't forget, I LOVE to laugh.
Leave your comment below. This is a truffle you'll want to win!