I'm reading a delicious book called A Homemade Life by Molly Wizenberg. In it she shares dozens of recipes from her childhood, many of them chocolate. The following recipe is a slightly adapted version of her chocolate banana bread.
I'm sure my raw food friends would be appalled to see me cooking with a "raw food" product but I found this flour at my favorite organic market and I just had to give it a try. It contains organic buckwheat sprouts, sprouted almonds, wild white chia seed, organic mesquite pod and agave inulin. You can also use your favorite unbleached flour.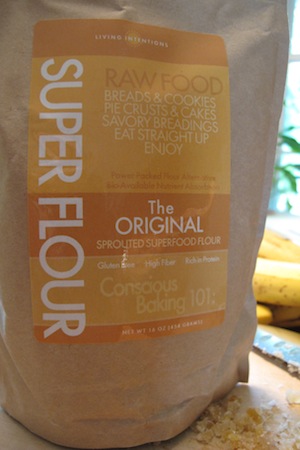 Ingredients
6 tablespoons (3 ounces) unsalted butter
2 cups unbleached all-purpose flour (or Super Flour pictured above.)
¼-½ cup organic cane sugar
¾ teaspoon baking soda
½ teaspoon salt
¾ cup bittersweet chocolate chips (I'm loving Sunspire chocolate chips.)
1/3 cup finely chopped crystallized ginger
2 large eggs
1 ½ cups mashed banana (from about 3 large ripe bananas)
¼ cup well-stirred whole-milk plain yogurt (not low fat or nonfat)
1 teaspoon vanilla extract
Set a rack in the center of the oven, and preheat the oven to 350°F. Grease a standard-sized (about 9 by 5 inches) loaf pan with cooking spray or butter.
Place butter in a heatproof bowl and melt in the preheated oven. Set aside to cool slightly.
In a large bowl, whisk together the flour, sugar, baking soda, and salt. Add the chocolate chips and crystallized ginger and whisk well to combine. Set aside.
In a medium bowl, lightly beat the eggs with a fork. Add the mashed banana, yogurt, melted butter, and vanilla and stir to mix well. (The same fork works fine for this.) Pour the banana mixture into the dry ingredients, and stir gently with a rubber spatula, scraping down the sides as needed, until just combined. Do not overmix. The batter will be thick and somewhat lumpy, but there should be no unincorporated flour. Scrape the batter into the prepared pan, and smooth the top.
Bake until the loaf is a deep shade of golden brown and a toothpick inserted into the center comes out clean, 50 minutes to 1 hour. If the loaf seems to be browning too quickly, tent with aluminum foil.
Cool the loaf in the pan on a wire rack for 5 minutes. Then tip it out onto the rack, and let it cool completely before slicing—unless you absolutely can't help yourself, in which case, dig in.
Yield: about 8 servings