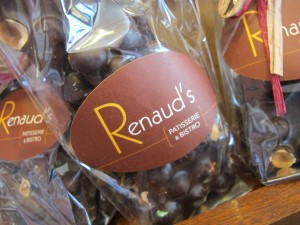 "Do you like chocolate?" I asked the young woman sitting beside me, flying the not-so-friendly skies of United. My husband rolled his eyes. I could almost hear him saying under his breath, "You'll talk to anyone."
"Who doesn't?" she smiled.
I offered her one of my Santa Barbara chocolate finds. Her eyes lit up when she noticed hazelnuts bursting through layers of darker-than-night chocolate.
I found Renaud's Patisserie & Bistro in a similar conversation, with a total stranger, as my husband and I waited to board our plane to California. It started out with a simple question about shoes and turned into a discussion of foodie finds in Santa Barbara. I call this the foodie pheromone concept. She hadn't lived in Santa Barbara very long but by the time we landed, my new foodie friend had composed a list of all her favorite restaurants. This patisserie was at the top of her list and their chocolate quickly rose to the top of mine. The hazelnuts are "caramel coated." Even my husband, who prefers a Twix Bar to any exotic chocolate I discover, got excited about this one.
Much to my husband's chagrin, I turn every vacation into an epicurean adventure. On this trip, I sampled local teas and chocolate, visited farmers markets, and checked out every natural food store on the map. Here are some of my California Foodie Finds, most of them chocolate.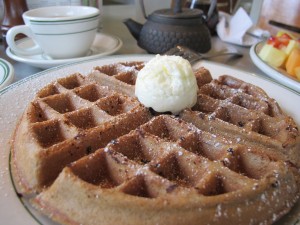 You haven't lived until you've tried one of the colossal chocolate waffles at Americana Restaurant in Del Mar, CA, featuring American classic comfort food in one of the most charming settings in town. Everything in this restaurant is colossal. I ordered a "side" of fruit that could have served six.
Another great chocolate for breakfast find in Del Mar, was Crepes & Corks. I was drawn in by the giant nutella jars on display. Yes, I know it's not real, but I'm still a kid at heart and just imagining that much nutella in one place was enough to bring a smile to my face. The crepes were outstanding as was the ambiance.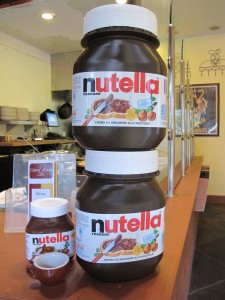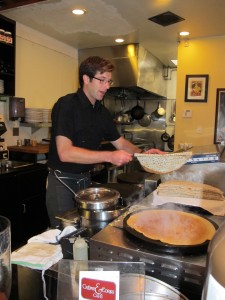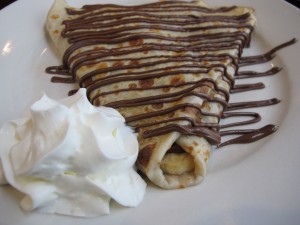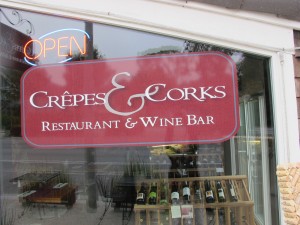 San Diego, for me, was artisan chocolate heaven. I found a beautiful line of chocolates at the Hillcrest Farmers Market. I loved the way the bars were standing at attention just calling you to check out the exotic infusions. I tried the Sweet Basil Mint and reluctantly handed over the Sea Salt Nib to the neighbor who took care of my garden in my absence. The chocolate was exceptional.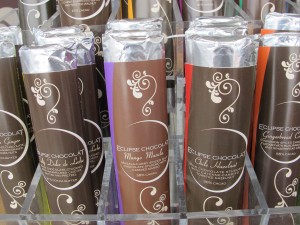 And as if that wasn't enough chocolate for one day, I discovered yet another local chocolate when I visited the Halcyon Tea Room, afterwards. There's something very soothing about slowing down and enjoying a pot of tea. I have to have just the right pot. I have to have just the right cup. And, I have to have just the right tea. You can imagine how delighted I was when I stumbled into this beautifully appointed tea room.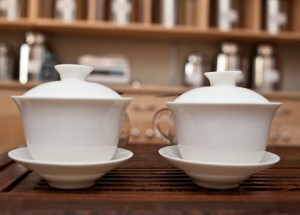 photo credit: Halcyon Tea
But even more fun than the experience itself was coming home with my stash of tea and chocolate and then CONTINUING the conversation with James Bowman, owner extraordinaire. He is such a perfect example of a conscious business owner dedicated to sourcing the highest quality fair trade, organic tea he can find AND maintaining thoughtful relationships with his customers, even when they live clear across the country. He also has great taste in chocolate.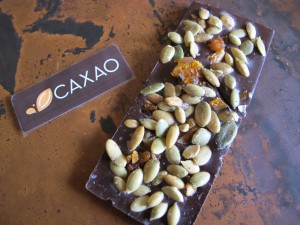 I must say that the explosion of flavor in this bar (heat, spice, salt, bittersweet) could send me back to San Diego on the next plane to stock up. If you live in San Diego, you'll want to find this extraordinary chocolate maker, Caxao, and see for yourself just how delicious it is. And when you do, drop a note on my fan page and watch me drool.
In honor of the one year anniversary celebration of Chocolate for Breakfast, you may compete for your very own sample of Halcyon Tea and Caxao Chocolate. Just leave me a message and tell me what the phrase "tea and chocolate" conjures up for you. It's YOUR turn to entertain me and you will be richly rewarded, I promise.