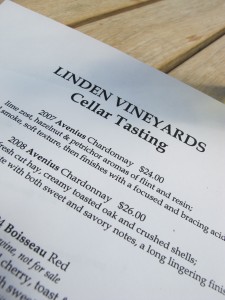 Sometimes get-away weekends are more relaxing than leaving town for an extended stay. On Saturday morning my husband and I took off for a celebratory weekend at the Ashby Inn in Paris, Virginia. I wanted to tell my friends I'd be celebrating my birthday in Paris this year. On the way, we decided to do a little wine tasting. Linden Vineyards is one of my favorite wineries. Jim Law (winemaker extraordinaire) recently wrote an article: Zen Winegrowing. He says, "The best winegrowers are guided by a subjective palate, not scientific protocol." I like the idea of palate-based winemaking. It fits nicely with my foodie sensibility.
When you visit Linden you are drawn to the beautiful glassed-in deck with a stupendous view of the vineyards and the valley. In order to enjoy the deck, you must be a member of Linden's Case Club. Purchase a case or more of wine and you can enjoy complimentary tastings, deck, and grounds as often as you like. My husband was a little put off by this at first. We had been enjoying the tastings and the view for many years and he couldn't understand why you had to be a member to continue that privilege. But it was my birthday so he acquiesced and we had a relaxing afternoon on the deck.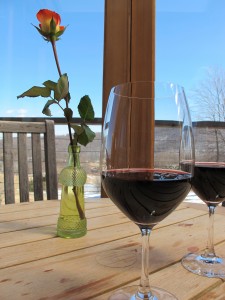 We sampled a Boisseau Red '04 and a Cabernet '90. These wines are not for sale. They are part of the library collection. Talk about savoring every sip.
The Ashby Inn was just as I remembered it—a beautiful place to enjoy a view of Paris Mountain, Ashby Gap and Sky Meadows State Park while anticipating a dinner that is sure to please your palate and  leave you checking your calendar to schedule a return visit.
For dinner, we started with a grilled beet soup. I love it when the waitress brings you a bowl filled with a medley of textures and flavors—sweet, savory, tart—plus crunch, and slowly pours the soup, tableside, as you watch the bowl of steaming goodness take shape before your eyes. This soup sang. And no, I didn't tell my husband it contained braised oxtail. I'm the celebratory eater in the family. I celebrate every bite. He's the cautious eater. He calculates each and every bite. (Oh, and did I mention he's an accountant?)
The salad was lovely but the entree was stupendous. About a year ago I made a decision that when dining in a stellar restaurant, I would no longer spend twenty minutes pouring over the menu deciding what to eat. I simply ask, "What's your signature dish?" And then, I place myself in the hands of the exemplary chef and I savor every bite. Chef King was featuring Maplewood smoked beef loin with pureed parsnips. John had a delightfully crunchy cod and we were both in foodie heaven for the duration of the meal.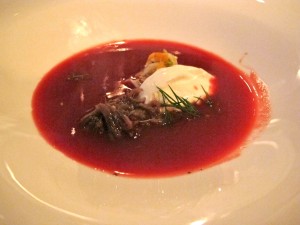 Then came dessert. I held my breath. I am a self-confessed chocolate snob. When I order a chocolate dessert it has to be good. My eyes spotted the red velvet sponge cake. I love red velvet but just thinking about the ingredients in a typical red velvet cake puts me in a food coma—red dye number 40 and a pound of butter. Chef King managed to bring all the qualities of red velvet cake to a much lighter and even more luscious dessert—red velvet sponge cake with cream cheese and lemon curd ice cream sprinkled with cacao nibs. Absolutely divine.
I don't have the recipe for this delectable dessert but if you hop over to Foodie-isms.com, you'll find the Chef's sticky recipe and in that recipe you'll find his Hazlenut Sponge Cake. If you're like me, you'll be crafting that cake at sun up. Bon appétit!