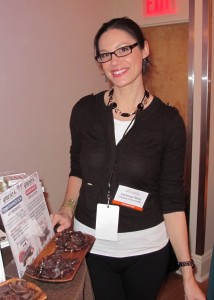 Gnosis: The World's Most Nutritious Chocolate
If I had seen this tag line anywhere else, I may have raised an eyebrow. But when you meet Vanessa and you see what she's up to in the world, you can't help but be impressed.
Intention personified.
Vanessa Barg, aka Chocolate Girl & certified holistic health counselor, made her first raw chocolate bars in a copper bowl in her mom's postage stamp-size Harlem kitchen as gifts for her clients. Three years later, Gnosis Chocolate is the world's leading manufacturer of raw organic chocolate.
I'm a little fussy about my chocolate. As much as I love the concept of eating "raw" chocolate, I'm not always sold on the mouth feel. Vanessa takes raw chocolate to a whole new level. The first bar I tasted was her Aphrodisia (for passion). Not that I need any more passion in my life but, well, who wouldn't want to try that one?
I loved the rich raisiny pruney notes.
Next came the Mayan Heat (for circulation). What I liked most about this bar was that the heat was distinct, yet subtle. It wasn't the blow-your-socks-off effect some chocolatiers present to you, a somewhat suspicious gleam in their eyes. I also love all the "yummies" she includes in this bar: pecans, cranberries, cacao nibs and currants. The texture is delightful.
Gnosis Chocolate is made from ethically & directly sourced cacao from Bali, Ecuador, and Peru. Each product is not only flavorful but also functional—infused with superfoods and medicinal herbs sourced from the Amazon to the Himalayas. Gnosis products celebrate health, exquisite flavor, and integrity. Vanessa has visited farms in Belize, Grenada, Mexico, and Indonesia, following her supply chain to its roots to ensure Quality Assurance and fair labor practices onsite.
Vanessa started The Raw Integrity Project to involve the raw food industry and community in determining better methods of production as this niche continues to expand. Since the first bar sold, Gnosis has operated with environmental and societal awareness. From manufacturing to packaging and shipping, Gnosis invests in sustainable materials and methods of operation.
I encourage you to check out her products: a complete line of unique organic raw chocolate bars, truffles, hot chocolate, jams, and trail mixes. All Gnosis products are raw, vegan, organic, kosher, dairy/soy/ gluten/refined sugar/peanut-free, and diabetic-friendly! Best-selling products include SuperChoc, Pomegranate Açaí, and Aphrodisia Bars, Pumpkin Spice Truffles, Immune Boost and Mayan Heat Hot Chocolate Elixirs, and Cupuaçu Acai Spread.
I'm completely enamored with both the concept and the chocolate.
Would you like to sample her chocolate elixir? Leave a comment below and tell me why you simply must have this delicious cup of hot steamy warm-your-tummy chocolate elixir and be the first winner of the One Year Anniversary of Chocolate for Breakfast!!