I love it when my favorite food bloggers compose a 'top 10 list' and take me on a blogging excursion to their favorite blogs and recipes. Chances are we all share the same foodie sensibility so I know I'm going to be in for a real treat. I also love being a chocolate curator and introducing YOU to the very best recipes and chocolate makers I meet as I travel the blog world in search of beautiful chocolate. But if you really want to know the truth, I ALSO like to keep these favorites nicely archived right here in my Chocolate for Breakfast container so I can find them easily myself.
This week my Well-Nourished Woman Inner Circle completes a three-month journey into delicious living. We've been looking at healthy ways to include sweet treats in our diet without guilt or remorse. Hence, the guilt-free truffle collection.
Oh yes, I enjoy the REAL truffles, too, but those are more the "special occasion" truffles. You know, the ones you surprise your sweetie with on Valentine's Day or when you happen to be in Colorado where Robin Chocolates calls your name or Piece, Love & Chocolate Company beckons you to Boulder.
For now, let's check out the ones you can make in your very own kitchen with very little fuss and so much flavor. Here are two of my favorites. I tried the Hazelnut Truffles Rolled in Gogi Berries last week because I picked up some really good gogi berries on a recent trip to New York City and I was eager to use them. (Trust me, not all gogi berries are created equal.)
These yummy truffles come from a blog called, What's Cooking Good Looking. Jodi is a natural foods chef and lover of healthy, wholesome, cooking. Her recipes feature whole foods and "natural ingredients that have super-power effects on your health and appearance."  You'll love both her recipes and her food photography. Truly exquisite.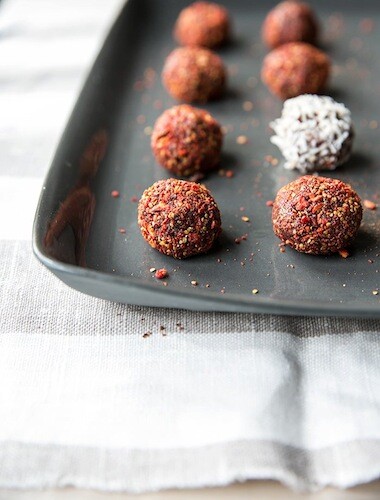 Hazelnut Truffles Rolled in Gogi Berries: photo source & recipe
It's no surprise that I stumbled upon a blog called The Chocolate Fig. In addition to falling in love with the amazing truffles pictures below, I felt a real kinship toward Sarah who has "always loved the way food tastes in its purest state of being." For many years I thought more about the yummy sauces and dips I could 'add' to a dish to give it some pizzazz. It wasn't until I studied culinary arts that I discovered the magic in bringing out the flavor in the food itself. Simple yet flavorful eating. That's what I love about The Chocolate Fig. Sarah's recipes speak fresh. I make these Spiced Hazelnut Cacao Balls when I want a truffle with a kick. I love it that I can whip these up in in a flash when I'm wanting something sweet AND nourishing.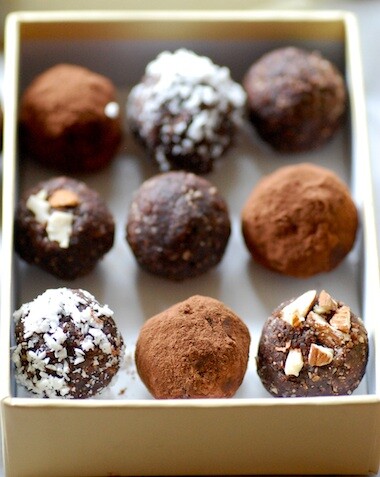 Spiced Hazelnut Cacao Balls: photo source & recipe
Note: Sadly, this blog is no longer available.
Have you experimented with raw food treats? Share your favorite recipes and  tell me about the truffles you've seen. . .