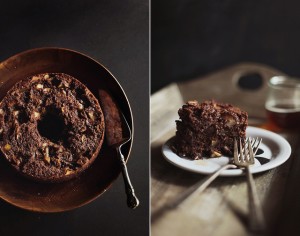 Some people begin their day with the newspaper. Others flip through their favorite magazines while sipping a cup of hot steamy cocoa. (I know, you're drinking coffee but this is a chocolate blog, okay?) Me? I go blog hopping. I love to see what people are cooking up and how they're presenting their food to the world. When I found Honey & Jam, I was mesmerized. Everything about this blog is stunning—the recipes, the photography, the presentation. I even love the way Hannah managed to find the perfect typeface to offset the rustic feel in her photography. And then, there was the cake. Pear and Almond Chocolate Cake with Cider Glaze. I have been dreaming about that cake, longing for an afternoon where I can set aside my blogging and my business and just bake. That's the beauty of a well-presented blog. It has the capacity to transport you anywhere, a little lunch by the lake, browsing through the 101 cookbooks falling out of your kitchen cupboards, peaking out from under your bed, tumbling off your nightstand—or even just your own smitten kitchen. Enjoy the cake, be sure to check out Hannah's brownies and spend some time quality time there. It's artful blogging at its best.
Pear & Almond Chocolate Cake with Cider Glaze
photo & recipe credit: Hannah Queen of honeyandjam.com
Ingredients
For the cake:
1 cup boiling water
1/2 cup natural unsweetened cocoa powder
2 cups unbleached all purpose flour
2 teaspoons baking powder
2 teaspoons ground cardamom
1 teaspoon salt
2 cups (packed) brown sugar,
1 cup vegetable oil
1 tablespoon vanilla extract
2 large eggs
2 pears, diced
1/2 cup slivered almonds
For the glaze:
1 cup pear cider
3 tablespoons brown sugar
2 tablespoons butter
1/2 teaspoon cinnamon or cardamom
Preparation
Preheat oven to 350°F. Generously brush 12- to 15-cup nonstick Bundt pan with oil. Whisk 1 cup boiling water, cocoa powder, in 2-cup glass measure. Whisk 2 cups flour, baking powder, cardamom, and salt in medium bowl. Using electric mixer, beat 2 cups brown sugar, 1 cup vegetable oil, and 1 tablespoon vanilla in large bowl to blend. Add eggs; beat to blend. Beat mixture until smooth, about 30 seconds longer. Beat in half of flour mixture, then cocoa mixture. Add remaining flour mixture; beat to blend. Fold pears & almonds. Transfer batter to prepared Bundt or angel food pan.
Bake cake until tester inserted near center comes out clean, about 1 hour. Cool the cake 10 minutes. Invert cake onto rack; cool 15 minutes longer.
Meanwhile, stir together cider, brown sugar, butter & cinnamon in a small sauce pan. Bring to boil, continuing for 5 minutes. Remove from heat.
When cake is cool, pour over glaze & top with powdered sugar.