I travel to Colorado a lot to visit family and friends and to enjoy the beauty of the mountains. Okay, who am I kidding? I travel there for the chocolate. My first stop is usually Piece, Love & Chocolate Company because there is always a delicious chocolate experience waiting for me there. This past visit I attended a Chocolate Lab on preparing Pots de Creme and a few more delectable desserts. Yes, I even ate some of that for breakfast with my dad who fostered my love affair with chocolate. Note, I call this a love affair, NOT an affliction.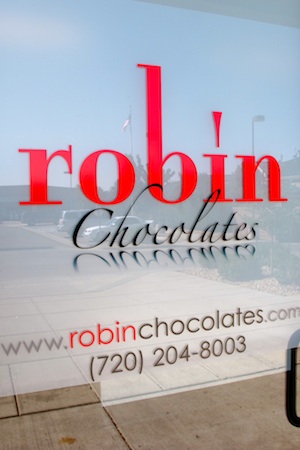 A few days later I visited Robin Chocolates in Longmont, Colorado. I can't believe I have traveled back and forth to Colorado every few months for YEARS and never visited Robin. I've certainly enjoyed her award-winning truffles. The lemon souffle has delighted my dad on many occasions.
Even in the midst of a VERY busy day, Robin took the time to feed me chocolate and show me around her little slice of heaven. There is something to be said for a spirit of generosity. For Robin, chocolate making is far more than truffle art, though she has that covered as well. Her truffles are exquisite.
Robin enjoys feeding people. Several customers popped in while we were visiting and she fed them, too. I love that about her.
But even more delicious than sampling all those chocolates was the opportunity to see her in action and witness her pride in both the ingredients she procures and the equipment she uses.
When I discover a new chocolate maker or truffle artist, I am always prepared to purchase some yummy chocolate to support their efforts and honor their craft. Robin would have none of that. She happily sent me out the door with her largest box of truffles, astounding me once again with her generosity. I have traveled far and wide in search of transformative chocolate experiences and no one has been this generous. I'm still working my way through that box.
Now that's what I call truffle love. . .