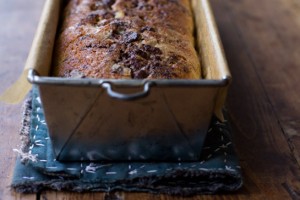 This is a variation of the dessert I ordered during my one night (epicurean) stand in New York City. I'm a big olive oil fan but I had never tasted olive oil cake. Admittedly, I was a little suspicious at first, but the cake was absolutely delicious and had a beautiful texture. I savored every bite. Then, I started my search for the perfect recipe. It didn't take long.
Heidi Swanson is a San Francisco based photographer, cookbook author, designer and creator of 101 Cookbooks, my favorite food blog. I knew she'd have a recipe for this cake. Incredibly moist, flecked with rosemary, and dotted with chunks of chocolate, how could I go wrong? If you haven't visited Heidi's blog, this is a great place to start.
And while you're there, check out the healthy chocolate recipes. I love the quinoa cloud cookies and the chocolate loaf cake is to live for.