I grew up in Buffalo, New York. Snow City. They called it "lake effect" snow. I called it bliss. As a child I marveled at snow drifts that reached the eaves of my home. And icicles that threatened to pierce the skull of the mailman if he ventured close enough to the mailbox to actually drop the mail inside. Typically that mailbox was sealed shut in the winter months. We had to pry it open with a crack and a chisel.
I consumed a lot of hot chocolate in those years. Still do.
Here are a few of my current favorites, extracted from blogs I adore. Each recipe can be easily adapted if you are lactose intolerant. My favorite dairy substitute is coconut milk. I make my own. Here's a simple coconut milk recipe from a blog I adore.
Edible flowers are making a comeback in the world of culinary delight and lavender is a luscious way to enhance so many dishes. It's a member of the mint family. A little goes a long way so use it sparingly and see if it appeals to YOUR foodie sensibility. I hope you enjoy this blog as much as I did; à la mode is the journal and creative outlet of Rick Poon, a Los Angeles photographer obsessed with food, travel, and design. Exquisite.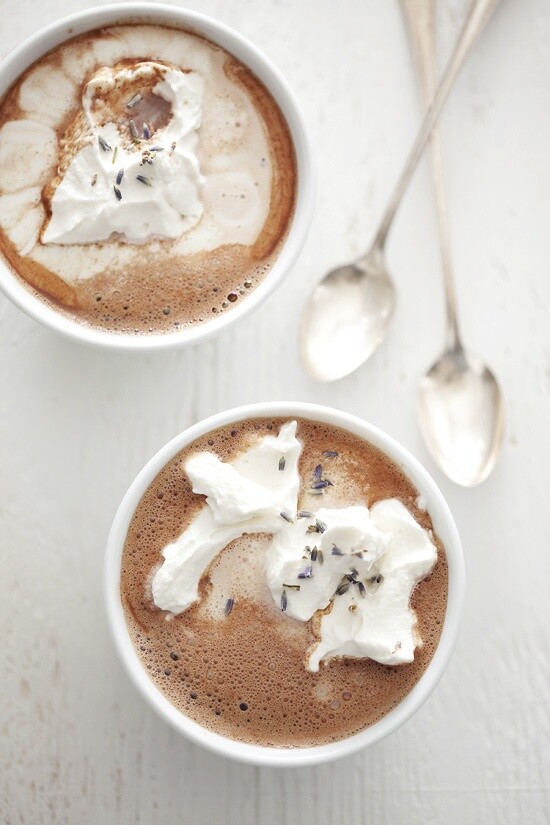 Lavender Hot Chocolate: à la mode: recipe and photo source
Sometime I'm looking for a little "heat" in my hot chocolate. Not temperature hot, but rather "picante" like the spicy heat of the chili pepper. I loved this recipe because it had me running to my spice cabinet looking for pink peppercorns. Who has pink peppercorns in their spice cabinet, right? Me! But they were happily nestled in a peppercorn medley. I simply picked out the pink ones. It felt like a treasure hunt. What I especially love about Kay (the Cooking Dutch Girl) are the step by step instructions and photos that accompany her recipes. I want to SEE how REAL chocolate ends up in that creamy cup of goodness. I know, I'm funny that way. If I can make it from scratch I'm happy. I want to keep my future self grounded in the warmth of my grandmother's kitchen where slow food was a practice instead of a movement.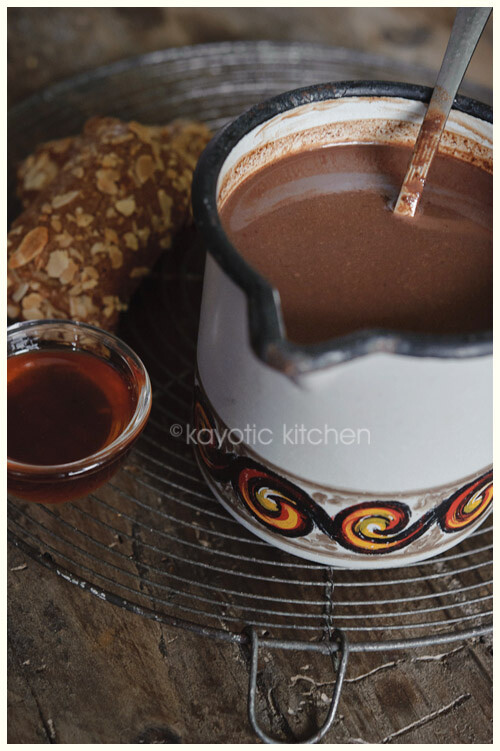 Pink Peppercorn Hot Chocolate: Kayotic Kitchen, photo source & recipe
And for those of you who want a more serious kick to your hot chocolate, this one has a shot of Bourbon. Maybe not for "breakfast," but think about sitting in front a cozy fire, sipping Bourbon-laced hot chocolate with your beloved. Admittedly I was drawn to this recipe because I loved the narrative attached to it. Russel Van Kraayanburg is an amazing writer and this blog chronicles his forays into the kitchen. His words: "Hot chocolate, like much of our memories, seems to be its most magical years into the past, far beyond our reach. That doesn't mean we still can't enjoy it today. In fact, it gives us an excuse to toy with that passed down recipe and make it our own once again. Today I use meringues in my hot chocolate instead of marshmallows. I use a much darker chocolate than the child version of I would ever enjoy. And I spike it with bourbon. I guess change really can be a good thing."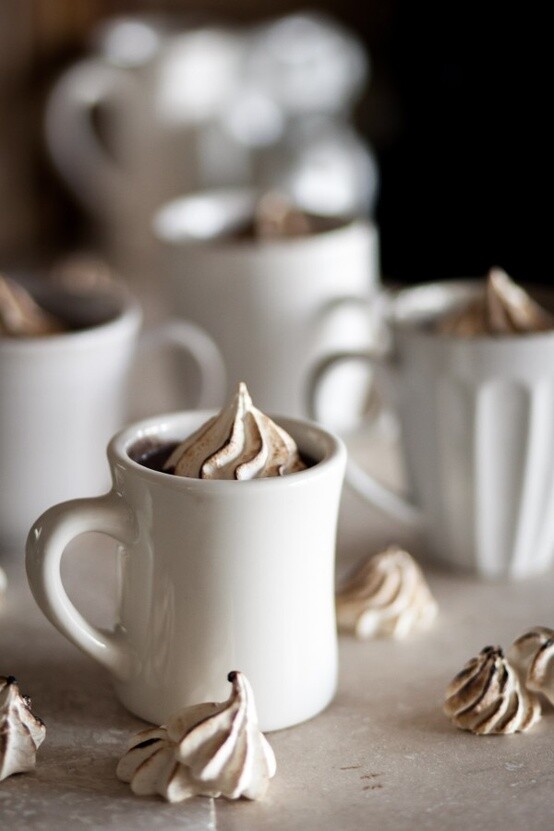 Bourbon Spiked Hot Chocolate: Chasing Delicious, photo source & recipe
Will you share a hot chocolate story with me? I'd love to hear from you!