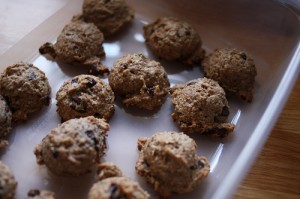 That's quite a mouthful, I know. But when I came across this blog, I knew I had to share it with you because in addition to the beautiful, gluten-free cookies on Food Loves Writing, there are many more recipes made with wholesome ingredients, described in the language of a food writer.
Plus, Shanalee takes you on vacation with her, introducing you to the restaurants she enjoys along the way. My husband and I have a running debate. He likes to check restaurant reviews on the bigger sites like Fodors or Yelp. I say, "I don't know that person. How do we know we have the same tastes? He may be looking for "value" defined by an all-you-can-eat buffet, while I'm looking for a chef who uses farm fresh, local produce." A literary food blog like Food Loves Writing, takes me into the life and kitchen of a fellow foodie. I'll take her recommendation over the recommendation of a faceless stranger any day.
Shanalee started this blog on the nine-year anniversary of her grandmother's death. I'm especially drawn to her recipes because we both enjoy a luscious legacy gifted to us by our beloved grandmothers. And, we both find ways to honor their kitchen wisdom while creating wholesome recipes that all can enjoy. (Note: buckwheat is a gluten-free baking option.)
Oh, and while you're there, check out Shanalee's wacky chocolate cake recipe!