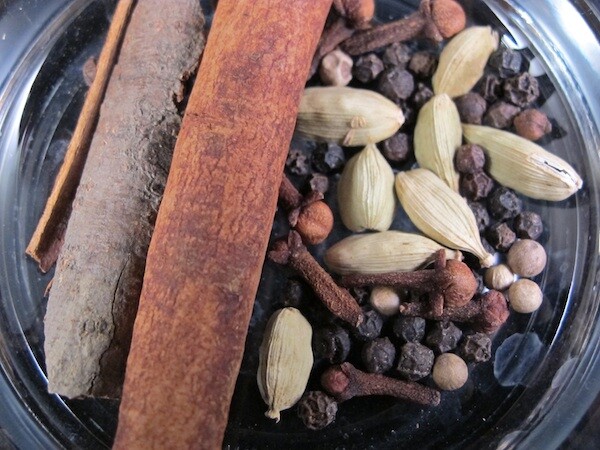 As much as I love a steamy cup of sipping chocolate when the cold winds blow, this week my body has been calling for the warming spices in Chai so I decided to make … Chocolate Chai Spiced Tea. There are some beautiful chocolate teas on the market that work beautifully here and I'll talk about a few of those below. You can also just use plain old black tea (or herbal tea) and throw some cacao nibs into the spice blend.
Chocolate Chai Spiced Tea
Ingredients
2-inch piece fresh ginger, peeled and sliced into thin rounds
2-3 cinnamon sticks
2 teaspoons peppercorns (I like the multi-colored ones.)
8 whole cloves
6 cardamom pods, gently crushed
2 whole allspice (optional)
6 cups cold water
6 bags of chocolate tea (or black tea)
whole milk, coconut milk, almond milk, or Brazil nut milk
muscovado brown sugar or honey to sweeten
Combine first 6 ingredients (ginger and spices) in medium saucepan with 6 cups water. Bring to boil over high heat. Reduce heat to medium-low, cover and simmer gently for 10-15 minutes. Remove from heat. Add tea bags and steep for 5 minutes. Discard tea bags. Pour mixture through a fine mesh strainer and reserve the liquid for concentrate. Cool. Store in an airtight glass container in the refrigerator for up to one week.
To serve, heat 1 cup chai tea concentrate and 1/4 cup milk of choice. Add a sprinkle of brown sugar or a drizzle of honey and whisk until sugar dissolves. Serve hot or cold.
Chocolate Tea
Quite possibly the best I've tasted to date.
I'm also a big fan of Mighty Leaf.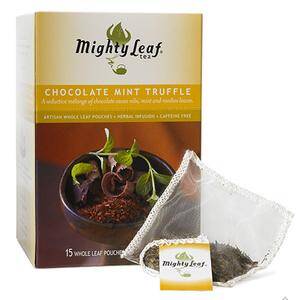 And, for a beautiful fermented tea, try Pu•erh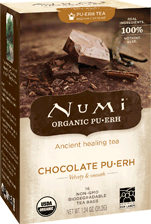 How about you? What are your favorite sipping beverages?