Rainy days call me into the kitchen. So does zucchini. I love just about every kind of squash but for some reason zucchini usually ends up in this bread. This particular recipe has been an ongoing experiment in my kitchen inspired by my favorite food bloggers who are experimenting with healthier options in baking. If you are looking for a beautiful bread that has no gluten and no eggs this is it. Buckwheat flour loves chocolate because it *covers the gray*. This bread is nourishing, soft, chewy, and totally decadent. For breakfast!
Ingredients
1 cup buckwheat flour
½ cup cocoa powder
1 teaspoon baking powder
¼ teaspoon sea salt (fine grain)
¼ teaspoon cinnamon
1 cup organic cane sugar
¾ cup dark chocolate chips (I'm loving Sunspire chocolate chips, no soy lecithin.)
¼ cup organic coconut oil
¼ cup mashed, cooked sweet potato
2 cups shredded zucchini, well drained
6-8 tablespoons Greek style plain yogurt
1 teaspoon vanilla extract
Directions
Preheat the oven to 350 degrees Farenheit.
Place freshly shredded zucchini in a sieve over a bowl to catch any excess moisture as it drains, while you work on prepping the other ingredients and preparing the recipe. Remove as much moisture as possible before combining zucchini with wet ingredients.
Place dry ingredients in a bowl and stir with a fork.
Add all wet ingredients (including zucchini) to another bowl. Stir to thoroughly combine.
Fold the dry ingredients into the wet mixture until well combined.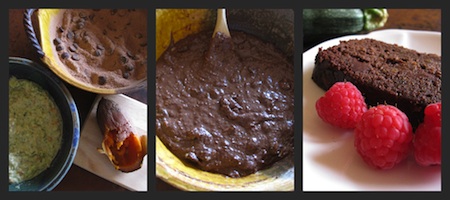 Lightly oil or butter 4 small loaf pans or one 8″ loaf pan. Even better: place the batter in an 8×8 glass baking dish. It makes awesome brownies!
Pour the batter into the loaf pan(s) and smooth the top of the batter.
Bake for 50 – 60 minutes or until a toothpick, inserted in the middle of the loaf comes out clean.
Let cool.
Remove from pan, slice and serve.
Enjoy and be sure to let me know what's cooking in your kitchen. Particularly if it's chocolate.
PS I am now calling this the zucchini bread that morphed into brownies. When my husband started studding his slice with walnuts, telling me what a great brownie this would make, I listened. Place batter in an 8×8 glass baking dish if you'd like to try the brownie version of this recipe. And don't forget to add some chopped walnuts!