Justine Fontinell is a Holistic Health Coach who is passionate about women's health and wellness. She is dedicated to helping women, particularly moms, live happier, healthier, more fulfilling lives. Justine is based in New York but works with clients nationwide in-person and via telephone sessions.
Justine is also a freelance journalist. She writes health articles, with a special focus on pregnancy and breastfeeding nutrition. Additionally, she is mom to a toddler with a big appetite and a lot of energy! I met Justine through facebook and was absolutely enamored with her full belly sisters fan page and all the wonderful tips and recipes she was posting there.
For more information on Justine's nutrition and wellness services, visit her website and follow her fullbellysisters blog.
We all have a story. Can you tell us a little bit about your food history? Where did your love of food begin?
I grew up in the 1970's and my mom was a firm believer in healthy foods. She made her own yogurt, baked her own bread; we also belonged to a food co-op, so we'd go and help my parents sort lettuce and such in the local church basement. There were times, when I entered elementary school, that I would beg her to buy me the mushy white bread that all my friends had in their lunch bags. But most of the time I really understood why it was important to eat good foods. That's not to say that my sister and I didn't sneak off to the candy store when we got hold of some spare change. But we were also always happy to sit down to our family dinners and eat lots of salad and veggies and brown rice, too.
What was your "food life" like before and then after the birth of your son?
I first started to really investigate the force of nutrition on my body about seven years ago, after I was diagnosed with Graves disease (an autoimmune disease of the thyroid). The disease–and the treatment–took a great toll on my body and my emotional well-being. I gained 20 pounds in two weeks, became depressed, and had chronic pain. I needed to feel in control of my body again. I moved away from the low-fat processed foods that were promoted as "healthy" at that time (and even now, sadly) and focused on eating more good fats and unprocessed foods. By the time I was pregnant a few years later, I felt like I really had a handle on how to easily prepare foods that were healthful and whole. I know it was a huge factor in my healthy pregnancy and in keeping my energy up for exclusively breastfeeding my son. I can't tell you how empowering it was to see my baby thrive on the perfect food that my body produced! I was in control of my body again.
What is/was your biggest struggle once you became a mom?
The most difficult adjustment for me when I became a mom was not having any more alone time. I love hanging out with family and friends but, even as a child, I've also always loved spending time with myself (whether I'm reading, going for walks, or just watching a Lifetime movie marathon). Once you have a baby, it seems you can't even go to the bathroom alone! It took me a while, but I learned to build "me time" into our daily schedule. Often, that time is spent at the gym: I put my son in the playroom with the gym's babysitter so I can work out and take a nice, hot shower without my three-year-old trying to barge in. It's a physical and mental release that I really need in order to recharge and feel like a human being again. I think sometimes moms think that they need to sacrifice everything in order to prove they are truly maternal. But I've learned – through trial and error, mind you – that I am a better mom when I feel like a whole individual.
I work with a lot of women who want very much to nourish their families but they confess that they are actually feeling pretty lonely in the kitchen. Does that happen to you and how do you cope with that?
I approach my kitchen time as part of my "me time." Instead of viewing, say, chopping onions as a chore, I think of it as meditative time; I can kind of zone out and just go through the movements. And the time I spend putting together a dish is my creative time: How can I get more greens into this? How can I make this recipe easier or more nutritious? How can I arrange this on my plate so that I'm feeding my eyes as well as my belly? I try to constantly challenge myself and get those creative juices flowing.
Because I love to work alone in the kitchen, it was difficult for me, at first, to let my son help out. But my priority was to have him learn to cook, to prepare fresh foods, and to experience the sensory appeal of cooking, as he was exposed to the different textures, smells and tastes. So I had to set aside my hang-ups; he's been helping me out since he was under two years old. At first it was dumping a cup of flour into a bowl, then it was whisking some batter, or cutting bananas; now he can crack the eggs! It's been wonderful watching his skills – and excitement – grow. And it's been valuable for me, too, knowing that I can be flexible enough to invite my child into "my" space. It's a learning process for us both.
Does your husband participate in the shopping or food prep?
Grocery shopping is one of my favorite things to do, so it's rare I let my husband do any! He does cook once in a while – turkey tacos are his specialty and one of my son's favorite meals – but cooking and baking are more my realm, responsibility, and passion. We do like to go to the weekly farmer's market as a family to shop and eat. It's a wonderful way to celebrate fresh foods, talk about what we plan to eat that week, and spend quality time together.
What are some of your favorite go-to meals and how do you organize your meal planning?

I don't plan meals weeks ahead of time. I like to take what is in season – and/or what I'm in the mood for – and build from there. So, if we go to the farmer's market and get a ton of parsley, that week I might make a batch of chimichurri, herbed potatoes, and garlic pasta with parsley. Or, if my garden is yielding loads of zucchini, I'll make zucchini pancakes, chocolate zucchini bread, grilled zucchini topped with crumbled goat cheese, or add chopped zucchini to a pot of marinara sauce. You can have the same ingredient every day in different dishes. That helps keep the food budget in control, too!
That being said, I do often cook large pots of bolognese sauce or soups or chili and keep portions in the freezer, so they are always handy when we need a quick meal. I also generally bake once a week so that we have banana bread or pumpkin muffins on hand for quick breakfasts and snacks. I don't necessarily cook every day, but even if I'm just reheating something (and that's okay, you perfectionist moms out there!) I will make a big salad to go with it. My husband and I are both crazy about salad!
What do you do when your little one doesn't like what you've prepared?

My son is definitely at a stage now – he's three and very into autonomy – where he won't just eat anything we put in front of him. I admit that it's sometimes frustrating, especially when I make something that was his favorite thing the day before and now he declares it "yucky." However, I don't cook separate meals for him. I didn't even do that when he was an infant; we did something called Baby Led Weaning (BLW), which means that when we introduced solids, we gave him the same foods we were eating – not purees – and he always fed himself.
Just because I don't cook a separate "kid's meal" doesn't mean I don't take my sons preferences into account when I'm meal planning. For instance, he has no interest in mashed sweet potatoes, but he'll eat loads of baked sweet potato fries; we have the fries more often because I know he will eat them.
When he won't eat the family meal, he's offered some back-ups: he can have any fruit or veggie or beans or nuts we have. There are times when he chooses to just have an apple and some chopped cashews for dinner. I'm okay with that. It doesn't take lots of food prep from me and he's still having a nutritious meal. There are times that he says he's just not hungry. I'm okay with that, too. He just eats a bigger breakfast the next day. An important facet of BLW is enabling children to recognize when they're satisfied. Wouldn't we all be better off if we stopped eating as soon as we were satisfied? My son can literally stop eating mid-cookie, he's so aware of his satiation point.
I always tell my clients that healthy eating is just as much about ADDING nutritious foods to your diet as it is about taking junk out. In that vein, I try to make my son's foods as nutritionally-dense as possible. So when we make pancakes – one of his favorite foods to both eat and prepare – we pack them with ingredients like kefir, chia seeds, pumpkin puree and (of course) blueberries. We make a double batch and I just warm a few up each morning for his breakfast. When we make smoothies, we add spinach. When we make peanut butter and jelly sandwiches we use ingredients like sprouted bread, natural peanut butter (no sugar, no hydrogenated oils), and raw honey or 100% fruit spread.
Can you tell us a little bit about your work in the world?
Full Belly Sisters is a partnership: my sister is an experienced mother/baby nurse, certified Lamaze childbirth educator, and International Board Certified Lactation Consultant; I am a board-certified Health Coach. We work both together and separately, depending on clients' needs. Our philosophy is that, in order to take care of your family, you need to take care of yourself and your health first.
I am like a personal trainer but instead of showing my clients how to exercise, I educate them on the best nutrition and wellness choices. I work with my clients to set goals, I arm them with tools and information, and I support them every step of the way as both cheerleader and coach. I'm someone that my clients can be accountable to, but I also hold their hands and offer guidance (and TLC!). Together, we tackle obstacles and celebrate even the most incremental positive changes.
I work with women at all stages of motherhood–during pregnancy and breastfeeding, when they're introducing solids to their children, and when their kids are older (from toddlers to teenagers!) and the focus is on family meals. The challenges are constantly changing as our kids grow. It can be tempting to do what's easy for you, instead of what's actually good for you. I am here to help show women that the stuff that's good for them can also be easy!
In addition to my one-on-one health coaching, I have a blog (fullbellysisters.blogspot.com) that features simple, healthful, family friendly recipes. People from all over the world are trying my recipes and I truly feel that I'm making an impact!
Tell me about your favorite chocolate.
My favorite chocolate is the milk chocolate almond bark from Li-Lac Chocolates, a chocolatier in NYC. My father used to take us down to Greenwich Village to the hole-in-the-wall shop and it was an adventure in deliciousness! I love the combination of chocolate and nuts; Li-Lac uses these enormous, whole roasted almonds and the chocolate is sort of this exquisite glue that just holds the nuts together.
Do you have a favorite recipe you'd like to share with us?
My homemade chocolate almond butter cups are a great, not-too-sweet treat for kids. My son loves them and even helps me drizzle the chocolate. But remember, raw honey is not recommended for infants under one year of age because of the rare risk of botulism.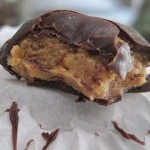 Chocolate Almond Butter Cups
Ingredients
(yield: 10-12)
3.5oz bar of dark chocolate, at least 70% cocoa (preferably organic)
2T natural almond butter
3/4-1T raw honey (to taste)
1. Break chocolate bar into uniform pieces and melt over a pot of simmering water until smooth and glossy.
2. Fill a mini muffin pan with papers and pour about a 1/2 teaspoon of the melted chocolate in the bottom of each. Chill in the refrigerator for a few minutes until the chocolate has hardened.
3. Spoon about 1/2 tsp almond butter into each cup. Press down a bit to flatten.
4. Drizzle the rest of the melted chocolate over each cup, covering the almond butter. (You may need to reheat it if it has hardened.)
5. Chill for a few more minutes in the fridge and enjoy!