If you follow me at Conscious Bites Nutrition you've probably heard me say, "Protein is not a powder and breakfast is not a bar." I really believe that. Unless of course you are making your own bar. These no-bake bars are yummy and filled with all kinds of nutrient-dense ingredients. Next time you are tempted to reach for a store-bought bar, make a batch of these instead.
No-Bake Chocolate Almond Bars
1/2 cup raw honey or grade B maple syrup
1/4 cup virgin coconut oil
1/4 cup almond butter
1/4 tsp sea salt
1 tsp vanilla
1 tsp cinnamon
1 cup organic rolled oats (Bob's Red Mill has gluten-free rolled oats.)
1/2 cup coarsely chopped raw almonds
1/2 cup coarsely chopped walnuts
1/4 cup raw organic sunflower seeds
1/4 cup raw organic pumpkin seeds
1/4 cup organic gogi berries, raisins or currants
1/2 cup organic dark chocolate chips (Sunspire chocolate chips are gluten-free and fair trade certified.)
Directions
Heat honey, coconut oil, almond butter, sea salt, vanilla, and cinnamon in a sauce pan over low heat.
Combine remaining dry ingredients in a bowl.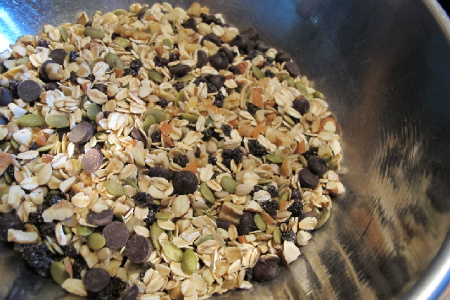 Stir wet ingredients (honey, coconut oil, almond butter, etc.) into dry ingredients and mix well.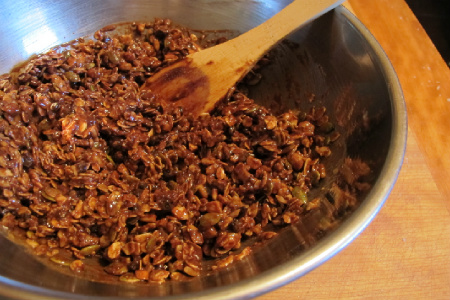 Press into a greased 8×8 inch pan. Refrigerate until hardened.  Cut into bars and enjoy.
Yields 16 bars.
What do you say? Will you give them a try?