Stephanie Holguin, the founder of foodie-isms, is obsessively interested in all things culinary. Her passion for discovering great food has fueled her wanderlust for traveling the world. From formal cooking classes in France to a day in Busara's kitchen and herb garden in Thailand, Stephanie has learned from the locals while eating her way through forty-two countries.
Stephanie created Foodie-isms to share both her passion and her craft. Foodie-isms is a one-stop-shop for luscious recipes gleaned from her travels, must-have kitchen tools, foodie finds, blog posts, healthy eating tips, restaurant reviews and more.
When not traveling, Stephanie is working with chefs in DC-based cooking schools or exploring local foodie finds in the Metro Washington, D.C. area as the Community Food Content Producer for WUSA9.
We all have a story to tell. Can you tell us a little bit about your food history. Where did you love of food begin?
I grew up in Indiana, where meat and potatoes (and corn) were on the menu almost every day. Other than my familial Romanian ancestry, we did not have any exposure to other culinary influences. It was not until I was twenty, when I moved to the Washington D.C. area, that my taste buds exploded. I had a new extended family of friends from around the world and I could not get enough of the exotic flavors I was experiencing. I would ask my friends to "teach" me how to make the specialties from their home country. That, coupled with my love of travel…and my taste buds were forever changed.
What was your "food life" like before and then after the birth of your children?
Before: elaborate international-themed dinner parties for 12+ guests
After: Halloween, holiday and birthday parties for 20+ kids
What is/was your biggest struggle once you became a mom?
I can't recall any big struggles with just one child but by the time the second one came along, my biggest struggle was finding 'alone time'.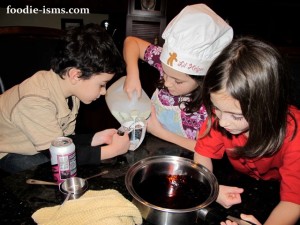 I work with a lot of women who want very much to nourish their families but they confess that they are actually feeling pretty lonely in the kitchen. Does that happen to you and how do you cope with that?
I have secretly wished my husband shared my enthusiasm for finding, creating, and preparing great food but I have never felt lonely in the kitchen. My husband certainly enjoys entertaining and has learned to appreciate great food.
Does your husband participate in the shopping or food prep?
No, but he does like to prepare two dishes he learned while living abroad in South America after college. Picadillo (Cuban) and Arroz con Pollo. He also enjoys mastering the grill and can make a delicious stir-fry. He has been a good sport when I've signed "us" up for random cooking classes over the years. One cooking class in particular was in Thailand and was an 8+ hours course. He thought he would be the only man in the class and was pleasantly surprised when the class consisted of more men than women.
What are some of your favorite go-to meals and how do you organize your meal planning?
Fish is the ultimate fast food when you are on a time constraint. I can't eat the same meals every week. It would be rare, in our home, if we had the same meal twice in a month. This also helps to ensure that my kids don't get "stuck" on only eating certain foods. I tend to cook several large meals on Sunday that will last for 3-4 days for easy reheating options. It helps get us through some of the busy after school evenings when cooking is not an option.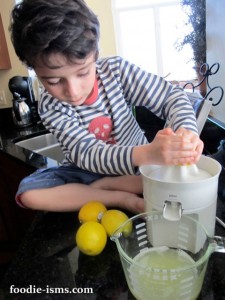 What do you do when your little ones don't like what you've prepared?
I have never made 'separate' meals for my children. The entire family is served the same meal. If my children do not like one of the foods served for dinner that night they can eat more of whatever else is served for dinner that night.
When my children were younger we also had a three-bite rule. Now that they are older they just do this automatically. The first-bite was to try a new food item, second-bite was to really taste the flavors. If, at this point, they did not like the taste, a third-bite was required to give it one last chance. You would be surprised at how many times they will "like" a new food by the 2nd or 3rd bite. It's important for them to feel like they have a choice in the matter. If they do not like the food after the third bite, they can choose to not eat any more.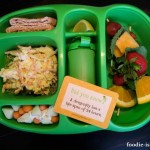 And, of course, the reason I was drawn to you, Stephanie, is that you are leaving your children a luscious legacy by including them in food preparation and planning. Could you tell us a little bit about your lunchbox love series?
When my daughter started first grade I thought it was great that I would have one less meal to prepare. I sent her off to school with money to buy school lunches. I waited a few weeks to let her get used to learning this new process on her own before I joined her for a school lunch. I was shocked to learn that first graders had the option of choosing ice cream and chips as part of their lunch and learned that she was 'unclear' as to what food items qualified as part of the regular meal plan. After eating lunch at the school, I was on a mission to provide healthy 'packed' lunchbox options. I spent months researching and reviewing lunchboxes and finding ways to make packed lunches fun and healthy. Since that day, she has not eaten school food.
And what is your favorite chocolate?
TAZA stone ground organic chocolate: Cinnamon Chocolate Mexicano
Do you have a recipe you'd like to share with us?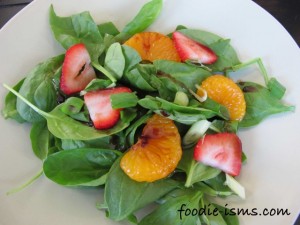 Strawberry Spinach Salad with Chocolate Balsamic Reduction
1 cup of strawberries, halved
1 can of mandarin oranges, drained
8 cups of baby spinach
1/4 cup scallions, thinly sliced
3 tablespoons balsamic vinegar
1/4 cup of red current jelly
1 teaspoon of good quality chocolate, Scharffen Berger 62% cocao
Combine the strawberries, mandarin oranges, spinach, and scallions in a large bowl. Prepare chocolate balsamic reduction.
Chocolate Balsamic Reduction: In a small sauce pan add the balsamic vinegar, red current jelly, and chocolate. Heat this mixture over low heat 3-4 minutes stirring continuously. When mixture is smooth, remove from heat. Allow reduction to slightly thicken by placing the pan in your freezer for 5-7 minutes. Drizzle chocolate balsamic dressing over salad just before serving. Enjoy!
You can find Stephanie on her Foodie-isms website, facebook, and twitter. Leave a comment and share with us how YOU plan to leave a luscious legacy.